Apple is recently giving iMessage a huge upgrade with the launch of iOS 13 during its Worldwide Developer Conference. With the latest upgrade, users will get a chance to add their own profile picture to display whenever they message others with the help of iMessage. The image in this case may be anything, whether it would be your real photo or simply your Memoji. Even by using iMessage, you may adjust your Memoji or Animoji to appear in the way you want by simply changing a few things. These include your hair color, skin tone, eyes and similar others. Other than this, you may add accessories and makeup according to your own choice.
The latest update of Apple makes iMessage appear as any = messaging app, like for instance WhatsApp or Messenger. Even the reports have revealed that the latest iMessage Memoji and profile photos would display in the Share Sheet of Apple.
The idea behind including the aforementioned features is to make contacts easily identifiable in messages in the same way, as it takes place in Facebook Messenger and WhatsApp contacts based on recognizable profit pictures.
Steps to Add Customized iMessage Profile Photo in the latest iOS 13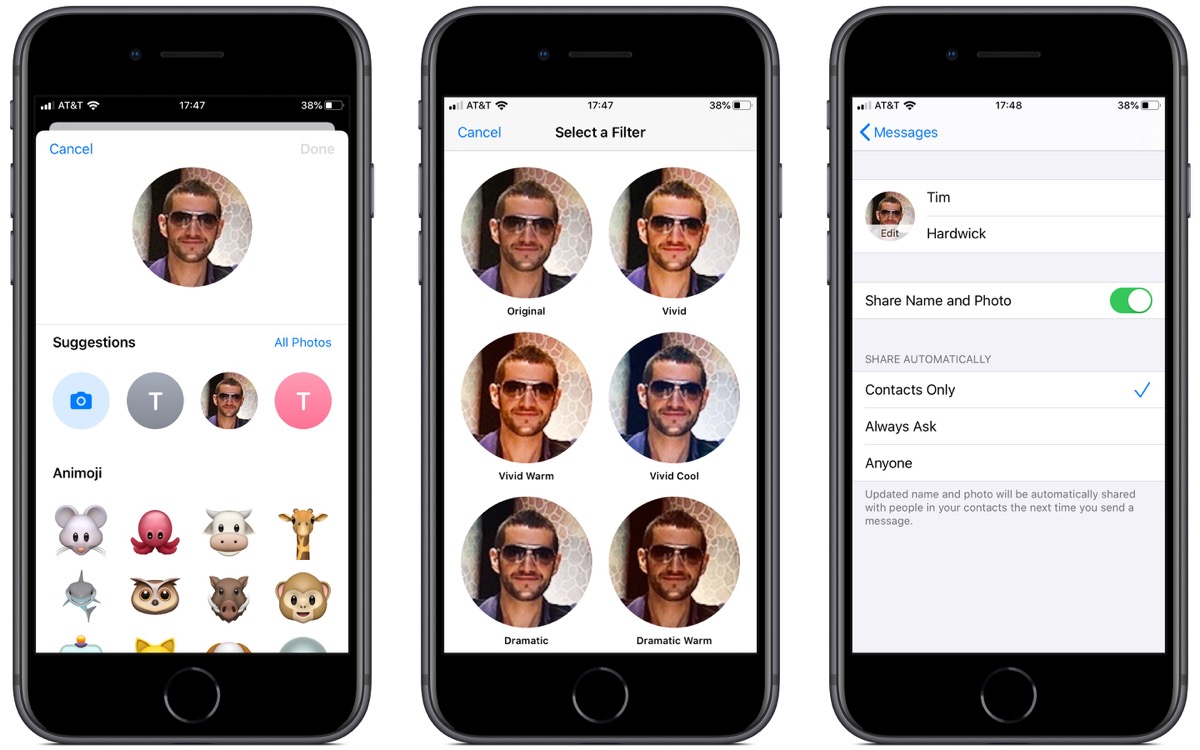 Start with launching the Settings app on your iPad or iPhone
Tap on Messages and later on, tap on Photo and Share Name
For using your photo in the new profile, you should tap on the Camera button and capture your picture.
Alternatively, tap each of the Photos to select an already existing picture from the photo albums.
Once you select a picture, you will get the option to scale and move it within the circular frame. You have to click on Choose once you complete the step.
Now, the app will ask you for selecting a filter for applying to your photo or simply you tap the Original one for skipping this step.
Tap on Done and various empty fields, along with the profile picture for entering your first and second names.
You should make sure to toggle the Photo and the Share Name to On Position.
Download: iMessage Games 2019
Steps to Add iMessage Memoji or Animoji in the latest iOS 13
You should launch the settings app on your iPad or iPhone
Tap on Messages and later on the Name and Photo
Next, you have to choose an Animoji from the available default list. In case you create a Memoji, it appears in your chosen list.
Later on, you should choose the pre-defined pose
Scale and move the image in any specific circular profile frame, while tap on Choose button
Select a specific background color and tap on Done
Tag various empty fields along with your chosen profile picture for entering your first and second name.
You must assure the Photo and Share Name switch to toggle to 'On' position
Select any automatic options related to sharing contacts, like Anyone, Always Ask and Contacts